Company News
EXCEL Welcomes Tammy Corripio
Join us in welcoming Tammy Corripio as EXCEL's Training and Workforce Development Manager.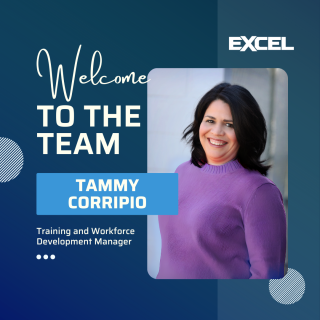 We're delighted to welcome Tammy Corripio to our team as the Training and Workforce Development Manager. Over the past 11 years, she has honed her expertise in Training and Development, making her a valuable addition to our team.

In her new role, Tammy will manage NCCER, oversee accreditation status, and ensure employees' assessments and evaluations. She will also represent the company at the ABC Pelican and Bayou chapters, actively participate in the Education and Manpower committees, and facilitate employee enrollment each semester. Her role extends to nurturing relationships with area high schools, guiding students toward construction opportunities, and supporting their needs while enrolling them with ABC. Additionally, Tammy will travel to job sites to provide leadership training.

Tammy's passion for helping people achieve their goals is evident in her excitement for her role. She finds fulfillment in supporting high school students as they explore career options and aiding tenured employees in advancing their education. Beyond work, she enjoys life's adventures, such as traveling, spending quality time with family and friends, and savoring culinary experiences at new restaurants.

As a part of our EXCEL team, Tammy aims to foster meaningful professional relationships that empower employees to grow in their careers. Her genuine enthusiasm for people and commitment to their development make her an invaluable asset to our organization. We look forward to achieving great things together with Tammy on board. Welcome to the team!

Share this article