Company News
Paving the Way, Heat Stress Management
EXCEL is receiving recognition for Heat Stress Management Program.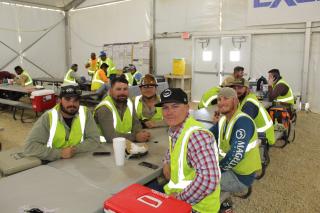 EXCEL is receiving recognition for Heat Stress Management Program.
EXCEL completed Phase I of a project in New Mexico serving a client in the oil and gas sector and is now receiving recognition for the project onsite Heat Stress Management Program to inspire future project worksites.

The remote worksite posed several weather challenges throughout the project, including hurricane-force winds and even snow. However, the most challenging weather obstacle proved to be the oppressive desert heat index, commonly reaching the 100 - 110⁰F range throughout the summer months.

EXCEL's Heat Stress Management Program was utilized onsite throughout the summer months to raise awareness and provide preventative heat management to onsite workers.

In partnership with our client, we monitored daily weather conditions and reinforced applicable safety and wellness practices on the weather. Supervisors used a mobile app and an onsite weather notification system to signal the workforce the care and hydration required for that workday.

Our Cool Down Station contained iced water, fans, and electrolyte packets for employees to consume throughout the day. The area provided shade and space to take refuge from the hot desert sun.

Many components of the program made it successful, but it was made possible with our mindful workforce and close partnership with this client.

Share this article