Company News
Celebrating Women in Construction with Calli Graner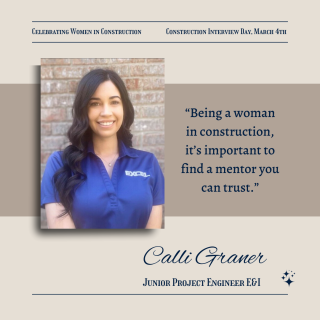 Women In Construction Week
Calli Graner joined the LSU Construction Management program after beginning a career as a Lead Orthodontist Assistant. "I wanted something more, but I didn't know what that was, so I began asking patients what they did for a living. I started to explore some of those areas of study and realized construction was something I was excited to learn more about," shares Calli.

After completing her prerequisites in her hometown of New Orleans, Calli transferred to LSU to complete her studies. In November 2018, she attended the CID (Construction Interviewing Day) and accepted an internship with EXCEL with Human Resources as Administrative Support. She held this role for eight months before moving to Project Controls. Calli's start in the HR department allowed her to gain familiarity with documentation from the job site. She also found it helped her connect with and learn about other departments through this opportunity.

"Being a woman in construction, it's important to find a mentor you can trust." Calli found a mentor in Lauren Champagne, VP of Human Resources at EXCEL.

Approaching graduation, Calli tapped into her deep resilience to overcome her finals during Covid while pregnant and continuing her internship at EXCEL.

"My ultimate goal is to be in the field and travel, taking my daughter with me."

Advice to Construction Management students, "If you want something, face the challenge, always believe in yourself, and go get it."

Calli, with your resilience and determination, we know your professional dreams will come true.

What do you hope to accomplish as a part of the EXCEL team?
I look forward to working with the people that know and love EXCEL for its culture, accomplishments, and bright future. EXCEL has an atmosphere of potential and opportunity, and it is palpable. I am committed to contributing to EXCEL's growth by ensuring that our team has the tools and training to provide an outstanding product to our clients. I want to build on the amazing accomplishments of EXCEL and for customers to continue seeing excellence in our execution.
Share this article