Company News
Celebrating Women in Construction with Maddie Ingram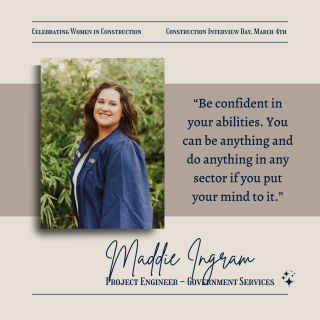 Women In Construction Week
Maddie Ingram began her college career as a business student at LSU, knowing she one day wanted to run a business of her own, but she felt something was missing. Inspired by a conversation with a colleague, she explored a move to the construction industry and found her calling. Maddie enrolled in the Construction Management program at #LSU. Though the curriculum was challenging, she rose to the occasion and obtained her goals through hard work and perseverance.

In December 2020, right before her final semester of college, Maddie began her internship with EXCEL in the Mechanical Department. She was guided through the fast-paced environment with several team mentors that eased the transition. She worked on take-offs and drawings and plans while controlling documents.

When Maddie was hired full-time, she moved to Disaster Recovery to help with the site-to-project-management gap. Maddie says, "Everyone has been very accepting since I arrived. Even people you don't know are so nice and friendly when you pass them in the hall."

Maddie's advice to future women in construction is, "Be confident in your abilities. You can be anything and do anything in any sector if you put your mind to it. So don't give up."

Maddie, you inspire the young women following in your footsteps. Thank you for immersing yourself (and rocking) in your role here at EXCEL!

Share this article