Company News
Teamwork makes the dream work
EXCEL's Leadership XL training participants conducted a team-building group exercise today, constructing aluminum foil towers as part of a teamwork session.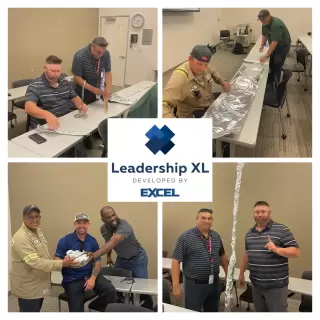 EXCEL recognizes that prioritizing the growth and development of our workforce paves a path for higher levels of job autonomy and workplace safety to enhance the overall employee experience.
EXCEL's exclusive Leadership XL Program multi-phase program provides practical, engaging, personalized training for engagement and growth. The Program guides our employees to see the potential they have within themselves. In addition, our Program aligns with management's operating goals for partner consistency and an elevated employee experience throughout our organization. Since its inception eight years ago, the Program has empowered over 300 individuals who oversee work, lead projects, and, most importantly, lead people.
Chad Pierce, Director of Workforce Development, shares:
It is the absolute highlight of my job and what I look forward to the most. I love spending time with people who want to learn and improve how they interact and lead others.
Share this article