Employee Spotlight
Employee Spotlight - Mike Carder
I'm proud to have worked my way up from a Site HSE Manager to a Regional HSE Director.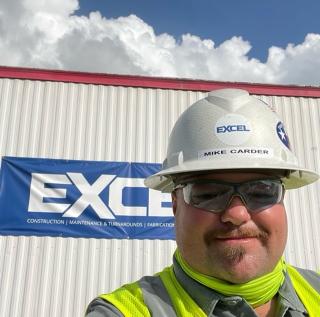 Mike Carder
Regional HSE Director
13 Years at EXCEL
What is an achievement you are proud of at EXCEL?
I'm proud to have worked my way up from a Site HSE Manager to a Regional HSE Director.

What are three words to describe EXCEL?
Family, Team, Commitment

What is your favorite part or project working at EXCEL?
My favorite part of working at EXCEL is being able to work with some of the best Craft Personnel, Supervision, and Executive Management in the industry.

How has EXCEL helped develop your career?
EXCEL has helped develop my career in many ways, but I'm most thankful for being allowed to participate in the development and improvement of the processes that set our company apart from others.

What drew you to EXCEL initially? And how has the company changed?
Honestly, I did not know much about EXCEL before a previous Maintenance Site Manager hired me; at the time, we only had one customer in Texas. Since then, we've grown our client base and performance capabilities, not just across Texas but across the entire US.

What do you like most about EXCEL?
What I like most about EXCEL is the tremendous amount of commitment, dedication, and support from our Executive Management for the health and safety of our Team Members. Our safety culture is driven from the top down.

What's the best advice you can give to someone who just started their career?
No matter what you are doing, continue to ask yourself three questions.
Am I performing to the best of my abilities?
Is the Company I'm working for going to be pleased with my work and feel they are getting more than their money's worth?
Would I be pleased enough to pay someone for the quality of work I've performed?
If you can't answer "Yes" to all 3, work harder until you can.

What would you do for a career if you weren't in your current role?
My father has been after me for years to take over the family business, so I would probably return to my residential and commercial construction roots.

What are your hopes for our industry?
My hope for our industry is to see it continuously advance and grow. Advancements save lives, and growth boosts economies.

Who/what inspired you to pursue the career you have today?
Mike Scarborough and Russell Klinegardner. Years ago, they took a massive gamble on me and gave me my first HSE position. I've never forgotten that and will always be grateful.

What is the best career lesson you've learned so far?
A person's certifications or degrees may get them hired, but their character and work ethic is what will keep them employed.

What is the toughest challenge you have had in your career? How did you overcome it?
My most formidable challenge was to help a group of dedicated supervisors create a safety culture at a facility that was 100% production driven. We developed a vision, set goals, worked hard, and never gave up.

What is something on your bucket list?
For my wife and I to take a cross-country motorcycle trip and watch the sunrise from Cadillac Mountain and the sunset from the Santa Monica Pier

What is your personal motto or mantra?
Faith and Family should always come first.

What are three hashtags to describe yourself?
#ProudDad #ProudTexan #Livetohuntandfish

What would your autobiography be called?
Mike Who?

What is your hidden talent?
According to my wife, I have an uncanny ability to tone out her and our teenage triplets when they start talking about anything involving spending money.

Share this article