Employee Spotlight
Employee Spotlight - Chad Pierce
EXCEL allowed me to spread my wings and show what I could do. No one had ever given me that kind of freedom or faith before.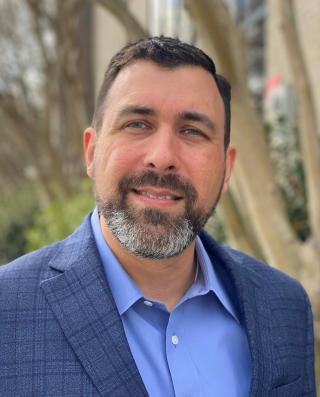 Chad Pierce
Training and Workforce Development Manager
7 Years at EXCEL
What is an achievement you are proud of at EXCEL?
It was developing the company's first-ever professional development training program, Leadership XL. It took about ten months to materialize the content. Still, we had an outstanding group of men and women who served on our curriculum committee, which made the brainstorming sessions fun and productive.

What are three words to describe EXCEL?
Family, Team, Excellence (pun completely intended)

What is your favorite part or project working at EXCEL?
Getting to visit any of our 16 Louisiana-based high schools and "preaching the industry gospel." Most students affiliate the construction industry with tools and fieldwork, which is a huge part of it. But they don't realize there are opportunities in medical, accounting, HR, business development, legal, marketing, and so many other areas. When we begin talking about how rewarding a career in the industry can be, you can see their wheels start turning. That's an awesome feeling.

How has EXCEL helped develop your career?
EXCEL allowed me to spread my wings and show what I could do. They already had a successful training program, but they handed me the keys and said, "put your stamp on this; we trust you." No one had ever given me that kind of freedom or faith before. I am surrounded by many incredible individuals who constantly offer their support for our training and workforce development efforts.

What drew you to EXCEL initially? And how has the company changed?
Boo Ragan and I knew each other through ABC, and we always had a little friendly LSU/Bama rivalry relationship (still do). He called me one day and said he was taking over the recruiting department and wanted someone he knew and trusted to come in and take over the training. Upon arriving, I first worked with Richard Beemer to get EXCEL accredited so we could offer NCCER certifications. To date, we've given well over 500 assessments and maintained a 40% pass rating.

What do you like most about EXCEL?
Hands down, the people! I've met so many phenomenal men and women during my time here. It truly is like a family. We laugh together, we grieve together, we stress together, and we win together. I know of at least 20 people I can call right now, and if I need something, I know they've got my back, no questions asked, and nothing required in return... that's teamwork!

What's the best advice you can give to someone who just started their career?
I'm going to catch all kinds of flack for this, but I'm going to say what I always say to high school and college students. You must practice The 3 B's Of Success: 1. Be There - show up and show up on time 2. Be Willing - do what you're told to do; do the tasks no one else wants to do; work your way up, don't take shortcuts, earn it 3. Be Awesome - have a positive attitude, don't focus on what you don't have, and be blessed for what you do have

What would you do for a career if you weren't in your current role?
Possibly a motivational coach or some kind of entertainer

What are your hopes for our industry?
That we can erase the stigma of being a profession that is only for the folks who can't cut it in college

Who/what inspired you to pursue the career you have today?
Two people: Dr. Joseph Burns from Southeastern and a gentleman by the name of Wade Walker. Dr. Burns helped me realize that I did NOT want to become a college instructor, and Wade inspired me to pursue workforce development because you can make a difference in so many people's lives.

What is the best career lesson you've learned so far?
Share the victory and own up to the defeat

What is the toughest challenge you have had in your career? How did you overcome it?
Years ago, I worked in sales and was given what I thought was an impossible sales goal. Other sales professionals all agreed that it was an unrealistic, near-impossible goal. There was also a stipulation that I would be terminated if I did not reach that goal. I sulked for a few days and then decided that I would give it my best shot. I busted tail for months, and two weeks before the deadline, I made the goal and then put in my notice so that I could begin my career in industry.

What is something on your bucket list?
Take my wife on her dream vacation to Australia

What is your personal motto or mantra?
Laughter is the best medicine

What is the last joke you recall?
If at first, you don't succeed, then skydiving isn't for you

What are three hashtags to describe yourself?
#dadhumor #saintsfan #tooblessedtobedepressed

What would your autobiography be called?
See? I Told You Anybody Can Write A Book

What is your hidden talent?
I can impersonate almost anyone.

Share this article