Company News
Big Win for Excel's Workforce Development Program
EXCEL Group earns top recognition, Workforce Development Excellence Award, at the 15th Annual GRBIA Craft Workforce Development Awards.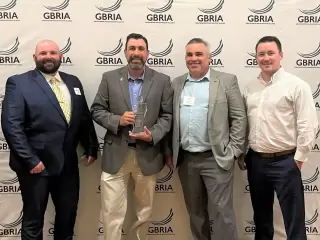 The GBRIA (Greater Baton Rouge Industry Alliance) Workforce Development Program holds high standards for craft training in construction, maintenance, and various other industries. GBRIA and its industry-leading members, such as EXCEL Group, invest time and resources in developing the area's young and budding workforce.
EXCEL Group has developed and invested in formal training and certifications for eager professionals looking to hone their skills.
"The selection process is rigorous," shares Chad Pierce, Manager of Training and Workforce Development.
Once facility leaders submit nominations, the nominated organizations undergo a rigorous process involving benchmark surveys, interviews, and digging into the workforce development data to ensure industry-leading craft certification processes are in place.
"Winning makes us proud. It's the support of our clients that makes the recognition special," says Allen Myers of EXCEL Group.
Pierce says, "Our clients embrace the work we're doing, and it shows. Our clients are invested in our program and its outcomes. What more could you ask for?"
EXCEL Group thanks our nominating clients for their continued support.
Share this article