Company News
EXCEL Group Supports ECC Extra Annual Conference in New Orleans
EXCEL Group's sponsorship of the ECC Extra conference reflects the company's commitment to the energy, chemical, and industrial sectors.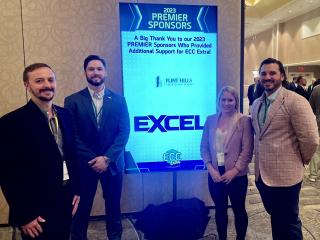 In February 2023, The Roosevelt in New Orleans hosted the annual ECC Extra conference. This event is designed to help energy, chemical, and industrial professionals stay up-to-date with the latest industry trends and technologies.

---
Micah Heckford of EXCEL shares, "I am still blown away by the impact that this organization has on our industry. The annual conference is such a great event, but what's most impressive to me is the amount of quality content that is packed into a 1-day event for the ECC Extra.
---

As a sponsor of the ECC Extra conference, EXCEL Group played an important role in helping to make the event a success. The conference featured a series of keynote speeches, panel discussions, and workshops covering various topics related to the energy, chemical, and industrial sectors. Attendees had the opportunity to learn about the latest industry trends, exchange ideas and insights with their peers, and network with other professionals in their field.

EXCEL Group's sponsorship of the ECC Extra conference reflects the company's commitment to the energy, chemical, and industrial sectors. By supporting events like this, Excel Group is helping to promote innovation, knowledge sharing, and best practices in these critical industries. The company's involvement in the conference also helps to raise its profile and strengthen its relationships with key stakeholders in the sector.

The ECC Extra conference provided valuable insights and networking opportunities for energy, chemical, and industrial professionals. In addition, it helped promote innovation and best practices in these important industries. We look forward to seeing EXCEL Group continue to play an essential role in supporting the growth and development of these sectors in the years to come.

Share this article