Company News
EXCEL "Torches" National Craft Competition
EXCEL Group employees and sponsored students won big at the Associated Builders and Contractors National Craft Competition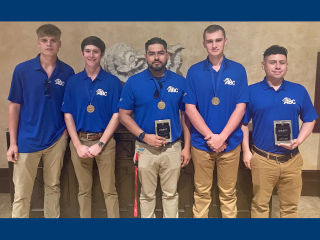 EXCEL Group employees and sponsored students won big at the Associated Builders and Contractors National Craft Competition in Kissimmee, FL, on March 17th, taking home three gold medals and two safety awards.

Two EXCEL employees took home gold medals, including Timothy Martinez and Juan Cortes, winning Gold in pipe and tig pipe, respectively. In addition, Kenny Portillo won the safety award for pipe welding.

In addition, Fontainebleau High School student Ben Schuler participating in the EXCEL Group-sponsored craft high school program, won Gold in structural welding.

The group brings back to Louisiana 3 gold medals and two safety awards. All five winners represent the ABC New Orleans/Bayou Chapter.

The competition provides a platform for these young students and budding craft professionals to demonstrate their abilities and problem-solving skills. They must design and build structures that meet specific technical requirements and are aesthetically pleasing. By participating in this competition, these young professionals are gaining valuable experience.

Fostering Future Talent
"EXCEL's sponsorship of the craft students and their program at Fontainebleau High School indicates the company's commitment to developing young minds and cultivating an industry of skilled craftworkers," shares Chad Pierce of EXCEL.

Fontainebleau High School's 12th-grade internship program was developed to provide rising juniors and seniors with meaningful work-based learning experiences.

The impact of EXCEL's support for these young students goes beyond just the sponsorship program itself. It demonstrates the importance of supporting and empowering young people to pursue their talents.

Share this article