Employee Spotlight
What a Good Catch Looks Like
EXCEL team member Jacob Vizinat makes a "good catch" in workplace safety.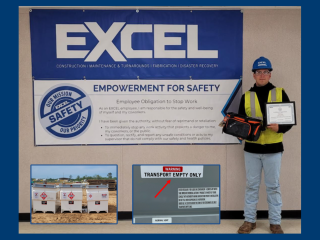 On Friday, April 14
th
, 2023, team member Jacob Vizinat (Forklift Operator, EXCEL Contractors) utilized his Stop Work Obligation Card. Vizinat was tasked to use a forklift to relocate portable fuel tanks from one onsite location to another. Before starting the task, he took the time to read the labels posted on the fuel tanks themselves. One of the labels stated, "Warning – Transport Empty Only." Mr. Vizinat immediately stopped work and reported his concern to his superintendent.
Within moments, a conference call was initiated between the EXCEL civil superintendent, the site safety department, and a representative of the fuel tank company. After further review and discussions, it was determined that the portable fuel tanks could be transported safely with a forklift while containing fuel. Due to D.O.T. guidelines and regulations, the owner of the portable fuel tanks had applied the label in question to warn of the hazards associated with transporting fuel containers on public streets/ highways.
Outcome / Positive Impact Details:
No injuries were sustained, and no property was damaged.
Good catch and safety awareness level
Team Member's safety concern was resolved promptly
Share this article