Company News
EXCEL Receives Workforce Development Award
EXCEL has been awarded the GBRIA Workforce Development Excellence Award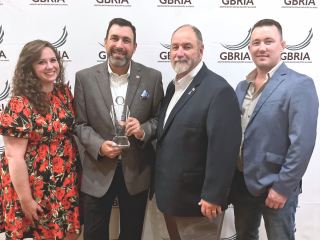 EXCEL is awarded the Workforce Development Excellence Award in Division II (5-11 million manhours) General Construction and Maintenance. Nominated by SNF, a well-respected GBRIA member, this occasion marks the third year that EXCEL has obtained this award.

The Greater Baton Rouge Industry Alliance, Inc. (GBRIA) held its 16th Annual Craft Workforce Development Awards banquet on September 1st, 2023. The program promotes best practices to improve craft personnel's skills and retention and recognizes contractors who contribute to training, career path education, and retention efforts.

Earning the nomination and award demonstrates that our clients and site managers fully support our workforce development efforts. "It's a remarkable reiteration of an all-in team effort. We have a fantastic workforce, and seeing all their hard work recognized on this grand stage is incredibly gratifying." Says Chad Pierce, Manager of Training and Workforce Development at EXCEL.

Share this article