Company News
EXCEL Earns DIAMOND STEP Recognition
EXCEL Group has been recognized with the prestigious ABC STEP Diamond Award at the Texas Gulf Coast Chapter meeting held this week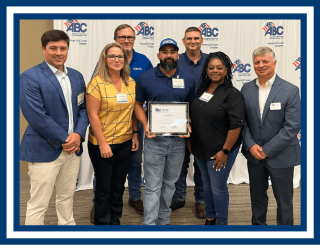 In a remarkable achievement that underscores its commitment to safety and excellence, EXCEL Group has been recognized with the prestigious ABC STEP Diamond Award at the Texas Gulf Coast Chapter meeting held this week.

The Associated Builders and Contractors (ABC) Safety Training Evaluation Process (STEP) program is a nationally recognized safety benchmarking and improvement tool. The STEP Diamond Award represents the highest recognition within the program, symbolizing EXCEL's unwavering dedication to creating a safe and secure work environment for its employees and partners.

Safety is paramount in the construction industry, and EXCEL has consistently set the bar high. By receiving the STEP Diamond Award, the company reaffirms its position as a leader in safety and excellence. This award acknowledges the company's outstanding safety performance, commitment to continuous improvement, and dedication to the well-being of its workforce.

EXCEL Group's ABC STEP Diamond Award achievement is the culmination of years of hard work, rigorous training, and a corporate culture deeply rooted in safety. It is a testament to the company's dedication to ensuring that every employee returns home safely at the end of the day.

Share this article