Employee Spotlight
Celebrating a Decade of Excellence: Thank You, Randy Hays
EXCEL Wishes a Happy Retirement to Randy Hays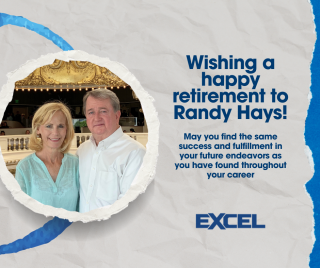 We are proud to celebrate the retirement of Randy Hays, who spent nine years with us here at EXCEL, leaving a lasting mark on our industry. As we bid farewell to a remarkable colleague, mentor, and friend, let us take a moment to reflect on Randy's accomplished career and the impact he has made on our organization.

A Journey of Excellence
Randy Hays began his journey with EXCEL in October 2014, and from the very start, it was clear that we had gained a true gem. His passion for industrial construction and unwavering commitment to excellence quickly set him apart. Randy's extensive industry knowledge and dedication to safety and quality made him a natural leader in our organization.

Randy spent a large portion of his career on the owner's side. This experience was invaluable when navigating the ever-changing procurement and engineering environment. Randy is consistent in prudent decision-making and has a professional demeanor. Randy has represented EXCEL both domestically and abroad.

A Mentor and Friend
Throughout his tenure, Randy wore many hats - that of a mentor, friend, and guide. He took newcomers under his wing, sharing his knowledge generously and patiently. His willingness to help others grow and develop their skills has left a legacy within our organization. Randy's door was always open; his advice has shaped countless careers within our ranks.

Randy's commitment to safety, mentorship, and leadership has left a mark on EXCEL and the industrial construction sector. While we will miss his presence in our daily operations, we are confident that his influence will continue to inspire excellence within our organization for years to come.

We extend our heartfelt gratitude and best wishes to Randy Hays as he embarks on this new phase of life. Your dedication, wisdom, and leadership have impacted EXCEL, and you leave behind a remarkable legacy. As you retire, may you find the same success and fulfillment in your future endeavors as you have found throughout your distinguished career in industrial construction.

Thank you, Randy, for nine years of excellence, and here's to a well-deserved retirement!
Share this article