Company News
Highlight: Find Us at Our Beaumont-Nederland Location
EXCEL Group is thrilled to announce the opening of our new office in Beaumont, Texas, to better serve our clients!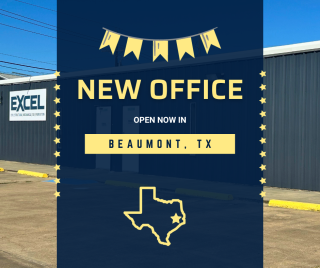 EXCEL Group is thrilled to announce the opening of our new office in Beaumont, Texas!

Our commitment to excellence and growth has led us to expand our operations in this coastal city, and we couldn't be more excited to serve the region and contribute to the deep-rooted industry connection.

Location & Hours of Operation
4823 Highway 69 South
Beaumont, TX 77705
Phone: 409.499.3089

Open Monday – Friday: 7 AM – 5:00 PM

Training Facility
This Beaumont, TX, office houses a dedicated training facility where our employees undergo comprehensive training programs to ensure they are well-prepared in their roles and CORE training efforts in safety and quality. In addition, site leadership undergoes training in the best human resources practices, including enhancing the new employee experience.

New Employee Orientation & PPE Distribution Center
After their initial orientation, our employees receive in-depth training, equipping them with site-specific skills and knowledge necessary for their respective roles.

In addition, the location serves as a distribution center for employees who are provided safety Personal Protective Equipment (PPE) to safely go into the field to commence their on-site craft work.

Since opening this summer, over 500+ craft workers have been trained through the new office.

The new EXCEL Beaumont, TX, office represents our commitment to our employees' success and our dedication to the communities we serve. We look forward to continuing to serve our clients with the same professionalism, expertise, and commitment that EXCEL Group is known for.
Share this article