Electrical & Instrumentation
DOW-SAMSUNG Chlorine #7 Falcon Project
As a specialty electrical and instrumentation contractor for the Dow-Samsung Chlorine #7 Project Falcon, the largest industrial project at the time.
Contract Value
$79 Million
Project Scope
Grassroots, state-of-the-art, Chlor-Alkali unit designed to produce 816,000 MTPA of chlorine and 880,000 metric tons of caustic soda. The first major project by Samsung Engineering America, Inc. to be executed in the United States.
Markets
Chemical / Petrochemical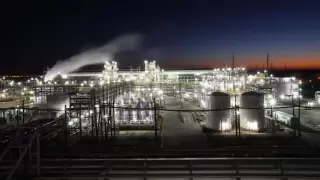 Project Description
EXCEL was hired as a specialty contractor by Samsung Engineering, the engineering firm and general contractor for the Dow-Mitsui Chlor-Alkali, LLC joint venture. At award, the project was the most significant industrial construction project in the Gulf coast area. The scope of the contract was to perform direct hire electrical and instrumentation construction and start-up services for a chlorine and caustic soda facility at Dow's integrated manufacturing complex in Freeport, Texas. EXCEL overcame logistical challenges and workforce shortages; installed, removed, and reinstalled defective client-supplied materials; managed thousands of design changes from Samsung's engineers 14 hours ahead in South Korea. In 25 months, the contract scope doubled to $79 million and was safely completed on schedule. The EXCEL project team received several accolades and commendations from high-ranking owners and client project executives.
Quantity Installation Summary
| | |
| --- | --- |
| 32,000 ft | Cable Tray |
| 190,000 ft | PVC Coated Rigid Conduit |
| 130,000 ft | Zeta-Bound |
| 3,000,000 ft | Cable |
| 30,000 | Terminations |
| 1,700 | Field Devices |
| 12,000 | 1/0 Point-to-Point and Functional Checks |
Awards
ABC Pelican Excellence in Construction Excellence Award

ABC Bayou Excellence in Construction Gold Award

ABC National Excellence in Construction Eagle Award