Civil, Structural, Mechanical and Electrical & Instrumentation
CF Industries Expansion Project
EXCEL executed this over 1,300,000 manhour project over 19 months without a single OSHA Recordable.
Location
Donaldsonville, LA
Contract Value
$305 Million
Project Scope
EXCEL's Scope of Work included the procurement and installation of all materials and the construction management of all phases on the Out-Side Boundary Limits (OSBL) areas of the CF-Donaldsonville Expansion Project. All Construction Craft Disciplines were utilized on the Project, including Site Work, Civil, Structural Steel, Piping, Mechanical, Electrical, and Instrumentation.
Markets
Agriculture / Fertilizer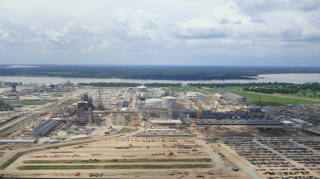 Project Description
CF Industries contracted EXCEL to manage multiple scopes on the expansion of their Donaldsonville Nitrogen Complex to make it the largest fertilizer plant in North America. This project presented numerous challenges throughout the construction sequence. Despite ever-evolving scope and obstacles to completion, through teamwork and exceptional management, EXCEL was able to help CF Industries meet its completion goals.

The project faced challenges with material delivery delays and missing materials. EXCEL performed an extensive audit of all materials, identified all missing items, and ordered items to the site to prevent delays. EXCEL then developed a plan to organize work more strategically, which minimized the cost of renting expensive equipment for longer than necessary and increased efficiency by doing more work in the laydown yard.

EXCEL began working on the project as a subcontractor; through diligence and demonstrated leadership, CF Industries recognized EXCEL and asked us to take over as the General Contractor. We quickly mobilized more resources, conducted thorough audits, developed a comprehensive plan to manage inventory and logistics, and hired subcontractors to address necessary scopes. EXCEL's Safety team created a site plan and managed procedures for multiple contractors onsite. Our Quality team updated all contractors' quality control procedures and impressed the client so much that CF Industries added the scopes of testing, restoration, and commissioning to EXCEL.

Overall, EXCEL completed its portion of the $305 million project spanning multiple scopes on schedule, and our exemplary safety management resulted in 1,930,000 work hours without a recordable incident. In addition, we mobilized 800 employees in 19 months to ramp production and managed 2,200 subcontractor personnel at peak.

The CF Industries project demonstrates EXCEL's capability to manage multimillion-dollar projects requiring rapid mobilization and meeting aggressive schedules.
Quantity Installation Summary
| | |
| --- | --- |
| 5,211 Cubic Yards | Concrete |
| 2,948 Tons | Structural Steel |
| 160,827 LF | Mechanical Pipe |
| 115,861 LF | Painted Piping |
| 92,783 LF | Insulated Piping |
| 403 Miles | Wire, Cable |
| 17 Miles | Raceway |
| 2,000 | Instrument Mounts |
| 120 | MCC & Switchgear Sections |
| 10,000 | I/O Point-to-Point and Functional Checks |