Mechanical and Electrical & Instrumentation
BASF QL4 Cooling Tower Replacement
A cooling tower replacement as part of a larger scope of work.
Project Scope
Industrial cooling tower replacement
Markets
Chemical / Petrochemical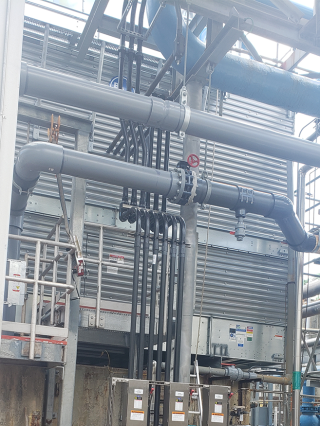 Project Description
BASF's chemicals and precious metals manufacturing facility in Seneca, South Carolina, received a cooling tower upgrade as part of a larger scope of work performed by excel group.

The team navigated tightly restricted workspaces to disconnect and reconnect motors, demolish conduit, dismantle and move the retired cooling tower, and eventually install the new tower.

The most significant threat to the project schedule included design specifications conflicting with the realities of the supply chain and material availability. Teams cross-collaborated with engineers to troubleshoot solutions to bring the project to a quality and safe completion.

Excel completed this portion of the project under budget, two weeks in advance of the deadline, with zero safety incidents.

Quantity Installation Summary
| | |
| --- | --- |
| 110 | Equipment Demolitions |
| 800 | Conduit/wire Demolitions |
| 4,560 LF | Above-Ground Conduit |
| 4,970 LF | Instrument Wire |
| 3,000 LF | Power & Control Cable |
| | |
Awards
ABC New Orleans Bayou Excellence in Construction

ABC Pelican Merit Award