Mechanical and Electrical & Instrumentation
Marathon Garyville Major Expansion Project
This mega project was the largest in Gulf Coast history.
Contract Value
$62 Million
Project Scope
EXCEL performed the complete E&I installation of five units: a Hydrogen Cracking Unit, a Kerosene Hydrotreater, a Continuous Catalyst Regenerator, a Sulfur Recovery Unit, and an EPC Waste Water Treatment facility.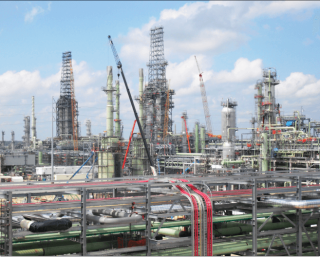 Project Description
Marathon Petroleum completed the construction of a $3.7 billion mega project major expansion at its Garyville, Louisiana refinery. As a result, the refinery's capacity was increased by nearly 180,000 BPD to 465,000, making this one of the top refineries in the United States. In all, eight new grassroots production units were added to this world-class facility. In addition, 1,200 pieces of equipment from twelve different countries were installed.
EXCEL employed a project management staff of 65, managing over 800 E&I crafts. Over 1.5M man hours were executed with a 100 percent schedule attainment. Most importantly, the entire project was implemented with zero OSHA recordables. EXCEL was the only major contractor to attain a zero recordable record on the project.
Quantity Installation Summary
| | |
| --- | --- |
| 70,000 ft | Cable Tray |
| 900,000 ft | Conduit |
| 3,050,000 | Cable |
| 200,000 | Terminations |
| 1,500 | Device Mounts |
| 9,500 | I/O Point-to-Point & Functional Checks |