Mechanical and Electrical & Instrumentation
Limetree Bay Terminal Restoration And Restart
This island project shows the importance of developing relationships with local vendors and using effective communication avenues as a part of superior customer service for a client.
Location
St. Croix, U.S. Virgin Islands
Contract Value
$240 Million
Project Scope
The scope of services for EXCEL was broken into two phases. Phase one established an API-653 Tank Inspection Program, which set forth the requirements to inspect the assigned and report discoveries. These reports identified all the repairs to restore the storage tanks to operational services and established their subsequent inspection intervals. EXCEL developed the repair execution strategy in phase two and performed the construction work to recondition these tanks.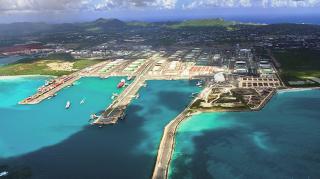 Project Description
The Hovensa Facility closed, decommissioned in 2012, and remained dormant until December 2015. In the initial restart phase, the terminal will bring 13 million barrels of storage online, the first of which is promised to various customers. The LB Terminals facility consists of approximately 32 million barrels of crude oil and petroleum product storage, a deep-water port with 10 petroleum docks, one bulk product dock, and six tug boats to support the terminal operations. In the second phase, another 13 million barrels of storage capacity will be brought online, contingent upon demand from potential customers. The facility currently blends and stores crude, gasoline, diesel, propane, jet fuel, and fuel oil.

EXCEL repaired and turned over 21 storage tanks totaling over 8.7 million barrels of storage capacity back to operations. Each tank presented different challenges related to its required and recommended repairs. Due to the facility being closed and decommissioned three years prior, the dormant storage tanks were exposed to the Caribbean environment, causing damage.
Quantity Installation Summary
| | |
| --- | --- |
| 98,850 ft | Mechanical Piping |
| 30,000 ft | Cable Tray |
| 200,000 ft | Conduit |
| 160,000 ft | Tubing |
| 2,200,000 ft | Cable |
| 112,384 | Terminations |
| 2,700 | New Instruments Installed |
| 4,500 | Lights/Panels/Transformers |
| 11,000 | I/O Point-to-Point & Functional Checks |
| 1,684 | Control Valves |
| 118 | MOVs |
| 1,226 | Motors |
| 14 | Compressors |