Structural
Elba Island Liquefaction Project
The Elba Island LNG Liquefaction Project was genuinely unique. EXCEL's persistence proved paramount in seeing the project through, whether it was the logistics of working on an island, the rapid project mobilization, or the continued assistance with quality control and commissioning.
Contract Value
$92 Million
Project Scope
EXCEL's portion of the overall scope of work included but was not limited to, the following: thermal oxidizers; a major ground flare; two heating medium heaters located in a superstructure; a south dock; a north dock; equipment work near two large tanks; 73 individual tie-ins worked within an overall turnaround schedule; and a truck loading area.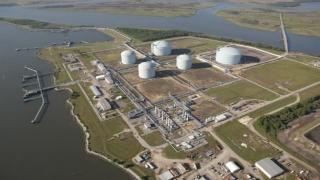 Project Description
EXCEL personnel arrived in Savannah, Georgia, to assist IHI E&C International Corporation (IHI E&C) with completing Phase One of the Elba Island Liquefaction Project. Owned by Kinder Morgan and engineered and managed by IHI E&C, Phase One of the site expansion was designed to include six Movable Modular Liquefaction System (MMLS) trains, providing a daily capacity of 210 MMcf of liquefied natural gas (LNG). This project also required modifications to the existing docks and tanks to increase the exporting capabilities. Throughout the project, EXCEL assisted both Kinder Morgan and IHI E&C in overcoming several logistical demands, design issues, and unique obstacles. Implementing EXCEL's value engineering, project controls programs, quality control procedures, effective site management, and safety programs significantly increased safe and productive work throughout the site. By the completion of the project, EXCEL was not only the largest contractor on site but also had the best safety record among all contractors.
Quantity Installation Summary
| | |
| --- | --- |
| 2,180 Tons | Structural Steel |
| 103,420 LF | Mechanical Piping |
| 3,659 | Field Welds |
| 5,631 | Bolt Ups |
| Commissioning Services | Multiple Trains |
| | |