Structural, Mechanical, Electrical & Instrumentation and Fabrication
Linde Praxair Hydrogen Plant
The Praxair/Linde hydrogen plant in Sweeny, Texas, is the largest of its kind in the U.S.
Contract Value
$41.6 Million
Project Scope
As the general contractor, EXCEL self-performed pipe fabrication, structural steel erection, equipment setting, piping installation, mechanical, and electrical/instrumentation. Insulation and painting were subcontracted.
Markets
Chemical / Petrochemical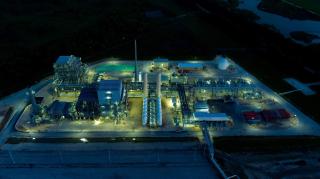 Project Description
The H2 SRM Project, located in Sweeny, Texas, was the first joint project for recently merged industrial gas suppliers, Linde-Praxair. The new Hydrogen facility/ steam methane reformer was built to supply the 256,000 barrel-per-day Sweeny Phillips 66 refinery with high-purity hydrogen. In addition, it enabled Linde/Praxair to extend its 310-mile U.S. Gulf Coast hydrogen pipeline system. The project was an unprecedented endeavor in what would eventually become the largest hydrogen production plant in the U.S.

Nearly every component of the H2 SRM Project facility was designed, fabricated, shipped, and delivered to the site as modular units transported primarily from Taiwan and Germany.

This project represented one of the largest-ever modular construction projects for EXCEL and required an incomparable level of scheduling, advanced planning, and collaboration with the owner co-located onsite.

To meet the project's tight deadline, the EXCEL project team had to be ready with a 1500-ton crane to pick, place and set each piece of equipment and module almost immediately upon site mobilization.
Quantity Installation Summary
| | |
| --- | --- |
| 450 Tons | Structural Steel |
| 60 EA | Equipment Setting |
| 48 EA | Modules |
| 35,000 LF | Mechanical Pipe |
| 3,449 EA | Field Welds |
| 420,000 LF | Wire, Cable |
| 41,000 LF | Cable Tray |
| 719 EA | Instruments |
Awards
ABC Pelican Merit Award

ABC National Excellence in Construction Eagle Award