Construction, Civil, Structural, Mechanical, Electrical & Instrumentation and Fabrication
Cruzan CMS Recovery Project Expansion
EXCEL worked as the general contractor for all civil, structural, mechanical, electrical, and instrumentation work for the Cruzan Rum Facility.
Location
St. Croix, U.S. Virgin Islands
Contract Value
$25 Million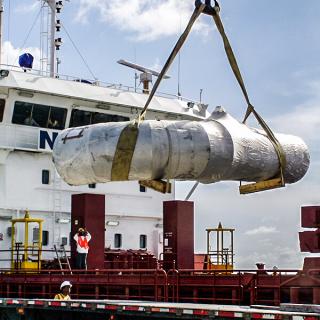 Project Description
This EPC (engineering, procurement, construction) project comprised the complete construction of a new wastewater treatment facility from design engineering to start-up. Over 6.5 million pounds of pipe, structural steel, concrete piles, facility, and construction equipment, storage tanks, cable, and wire were shipped or barged to the island from the U.S. mainland and other countries to construct this project. Although a tropical storm and two hurricanes created numerous challenges, the schedule was met and completed with no OSHA-recordable incidents.
Quantity Installation Summary
| | |
| --- | --- |
| 285 | Precast Concrete Piles |
| 2,500 CY | Concrete |
| 120 Tons | Structural Steel |
| 12,000 FT | Stainless Steel Pipe |
| 2,000 Ft | CPVC Pipe |
| 60 EA | Mechanical Equipment |
| 94 EA | Electrical Equipment |
| 1,344 | Stainless Steel Welds |
| 605 | Valve Installations |
| 103 | Hydrotest Packages |
| 8,000 SQFT | RO Building |
| 1,000 FT | Cable Tray |
| 12,000 FT | Conduit |
| 200 FT | Concrete Trench |
| 12,000 FT | Power Cable |
| 15,000 FT | Lighting Cable |
| 1,500 FT | Ground Grid System |
| 500 FT | Lighting Protection System |
| 25,000 FT | Instrument Cable |
| 1,200 FT | Devicenet Communcation Cable |
| 500 EA | Electrical Terminations |
| 80 EA | Electrica Function Tests |
| 214 EA | Instrument Installations |
| 1,500 FT | Instrument Process Tubing |
| 2,500 FT | Instrument Terminations |
| 300 EA | Instrument Loopchecks |
Awards
ABC National Excellence in Construction Eagle Award