Construction, Civil, Structural, Mechanical, Electrical & Instrumentation and Fabrication
Exxon/XTO Cowboy Project
EXCEL completed the construction of a grassroots cryogenic gas plant in New Mexico.
Location
Carlsbad, New Mexico
Contract Value
$420 Million
Project Scope
EXCEL completed the construction of a grassroots cryogenic gas plant designed in two phases with 3 million man-hours. The Cowboy Terminal, a central delivery point (CDP) in southeastern New Mexico, can handle 1.2 BCFD of gas processing, 600,000 barrels per day of oil processing, and 1,200,000 BBL of onsite oil storage.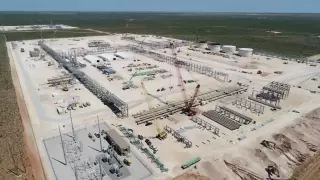 Project Description
EXCEL's meticulous planning and flexibility was a key factor that facilitated the resolution of these obstacles before and during the build. EXCEL became the owner's "right hand" and took the lead on scheduling through an innovative communication strategy. Our team remained proactive, using the latest technology to facilitate rapid interaction among all project participants to expedite engineering, constructability, and procuring materials, which typically is the responsibility of other parties. EXCEL spearheaded frequent meetings to maintain consistent progress among all team members.

Project challenges consisted of overcoming numerous logistical obstacles, including a highly isolated location and the novel hindrances posed by COVID-19. EXCEL went the extra mile to ensure that every facet of this job site was examined to ensure worker safety. Performing work in a highly remote area posed exceptional safety hazards, but our team was diligent in addressing issues both proactively and on-site. The Coronavirus, wildlife, and language barriers also posed incredibly novel threats, but with an award-winning safety program, EXCEL was repeatedly praised by the owner.

With a sincere dedication to safety, diligent coordination, and comprehensive execution, we overcame these incredible trials to meet facility completion. EXCEL is committed to excellence in all we do, and we are proud to have been a part of this enormous success in New Mexico.
Quantity Installation Summary
| | |
| --- | --- |
| 13,728 CY | Concrete |
| 6,084 CY | Drilled Shafts |
| 3,204 TNS | Structural Steel |
| 259 EA | Equipment Setting / Alignment |
| 229,984 LF | Mechanical Pipe |
| 90,313 LF | Insulated Piping |
| 425,716 LI | Field Welds |
| 594,636 LF | Wire, Cable |
| 30,960 LF | Cable Tray |
| 1,209 EA | Instruments |
Awards
ABC National Excellence in Construction Eagle Award